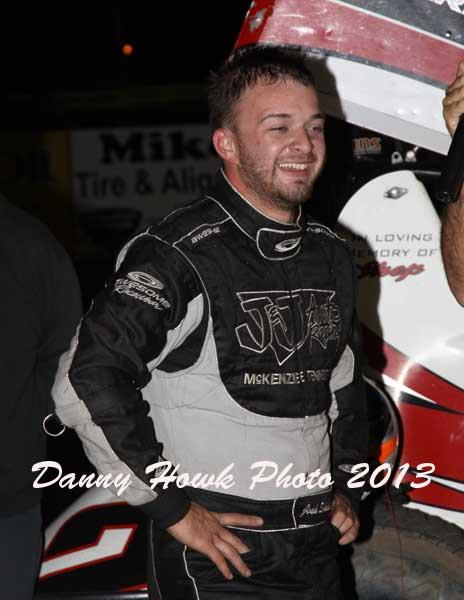 ---
Josh Schneiderman Roars to Bloomfield Win!
(Bill W) August 16, 2013 – Josh Schneiderman is known as "The Professor" and he took some drivers to school on Friday night in a convincing win at the Bloomfield Speedway in Iowa with the Brockway Mechanical & Roofing Sprint Invaders. The 25-lap feature win was the fourth of Schneiderman's career with the Sprint Invaders and paid the West Burlington, Iowa native $1,200.
Before a lap could be completed in the main event, Chris Martin got sideways and collected veteran, Jimmy Davies, who tipped over. Amazingly, Davies continued, while Martin was done. Once underway, Jon Agan shot out to a lead from outside row one. With a lap in the books, Tasker Phillips spun, bringing out the caution flag.
As Agan led the field back to green, Russ Hall, the point leader heading into the night worked his way from row five to third on lap five. On a lap six restart for a stopped Jarrod Schneiderman, he claimed second from Mike Houseman Jr. and began reeling in the leader.
As Hall approached Agan on the low side of turns one and two, Josh Schneiderman appeared on the cushion and blew around the lead pair to take the point. Agan would retire shortly thereafter, with Hall left to chase the new leader.
Hall pulled even with the pace setter on a couple of occasions in traffic, but his pursuit was halted with a red flag. Evan Martin got upside down after tangling with Phillips with twenty laps in the books. Schneiderman cruised the last five laps to hold onto the win over Hall, hard-charger Justyn Cox, Paul Nienhiser and Dustin Selvage. Houseman, Miranda Arnold, Bobby Mincer, Ryan Jamison and Daniel Bergquist rounded out the top ten.
Jarrod Schneiderman, Agan, Phillips and Randy Martin won heat races. Arnold became the first female to claim a checkered flag at Bloomfield Speedway when she won the Dash. Chris Martin claimed the B main. Randy Martin was unable to make the call in the A main after tangling with Phillips and a tractor tire in the Dash. He was uninjured. Matt Sutton and Mitchell Alexander were both early scratches with motor issues.
"We had a good racecar all night long," said Schneiderman. "We just couldn't get going on the start. I knew if I could get to the cushion, I could get those guys. They got to battling in front of me, and I just got around them before they could get up there. I just drove her in there for all she was worth! The car just got better and better the harder I drove in there. I have to thank my guys. Dad was in a hospital bed two weeks ago fighting off a bacteria…it's just good to have him back."
"I ended up following Jon on the bottom, and (Schneiderman) got around us on the top," said Hall. "I knew better, but he had a better car than me. It was plain and simple. In clean air, he was gone. We were hurt by the last red that came out. We weren't good after that, so I was happy with second. We definitely padded our points a little, and we'll look for good things tomorrow night at Burlington."
"We finally got some laps in and built some speed with the gear we had," said Cox. "I never ran here, so I had to figure it out. It was a really good track. I was stuck back in sixth or seventh for most of the race. Lapped traffic came into play and I was able to pass two or three cars in turn two. The track was awesome. It was a perfect slide job track and I'd love to come back."
The Brockway Mechanical & Roofing Sprint Invaders hit the 34 Raceway, Saturday night, August 17 for the "Night of the Twins" featuring Twin Features.
A Main (started), 25 laps: 1. 2, Josh Schneiderman, West Burlington, IA (3) 2. 45c, Russ Hall, Pleasant Hill, IA (9) 3. 5H, Justyn Cox, Clarksburg, CA (12) 4. 9, Paul Nienhiser, Chapin, IL (4) 5. 73, Dustin Selvage, Indianola, IA (8) 6. 68, Mike Houseman Jr., Des Moines, IA (1) 7. 5m, Miranda Arnold, Sedalia, MO (5) 8. 15, Bobby Mincer, Burlington, IA (10) 9. 51J, Ryan Jamison, Mediapolis, IA (11) 10. 9D, Daniel Bergquist, Burlington, IA (15) 11. 36, Justin Newberry, West Burlington, IA (14) 12. 40, Andy Huston, Roseville, IL (13) 13. 10T, Tim Moore, Rock Island, IL (19) 14. 4x, Evan Martin, California, MO (17) 15. 7TAZ, Tasker Phillips, Pleasantville, IA (7) 16. 99, Jimmy Davies, Oquawka, IL (20) 17. 4, Jon Agan, Knoxville, IA (2) 18. 14s, Jarrod Schneiderman, West Burlington, IA (6) 19. 56, Matt Krieger, Burlington, IA (18) 20. 44, Chris Martin, Ankeny, IA (16) DNS – 14, Randy Martin, California, MO. Lap Leaders: Agan 1-7, Josh Schneiderman 8-25. KSE Hard Charger: Hall. Hard-charger: Cox.
Advanced Plumbing & Mechanical Heat one (started, top four to A main, top two to Dash, 8 laps): 1. Jarrod Schneiderman (4) 2. Josh Schneiderman (3) 3. Dustin Selvage (1) 4. Justyn Cox (6) / 5. Chris Martin (5) 6. Evan Martin (7) 7. Matt Krieger (2)
Huston Land Improvement Heat two (started, top four to A main, top two to Dash, 8 laps): 1. Jon Agan (3) 2. Miranda Arnold (4) 3. Russ Hall (7) 4. Andy Huston (5) / 5. 50P, Harold Pohren, Lowell, IA (6) 6. 6, Mitchell Alexander, Knoxville, IA (1) 7. 1st, John Greenwood, Woodward, IA (2)
CenPeCo Heat three (started, top four to A main, top two to Dash, 8 laps): 1. Tasker Phillips (5) 2. Mike Houseman Jr. (3) 3. Bobby Mincer (7) 4. Justin Newberry (2) / 5. Tim Moore (1) 6. 83, Dave Getchell, Sperry, IA (4) 7. 85, Chase Wanner, Agency, IA (6)
Brockway Mechanical & Roofing Heat four (started, top four to A main, top two to Dash, 8 laps): 1. Randy Martin (2) 2. Paul Nienhiser (1) 3. Ryan Jamison (3) 4. Daniel Bergquist (4) / 5. 12G, Kelly Graham, Hedrick, IA (5) DNS – Jimmy Davies, 3, Matt Sutton, Macomb, IL
Budweiser "King of Beers" Shake-up Dash (started, 6 laps): 1. Miranda Arnold (1) 2. Jarrod Schneiderman (3) 3. Mike Houseman Jr. (2) 4. Jon Agan (8) 5. Josh Schneiderman (5) 6. Paul Nienhiser (6) 7. Tasker Phillips (4) 8. Randy Martin (7)
B main (started, top five to A main, 12 laps): 1. Chris Martin (1) 2. Evan Martin (5) 3. Matt Krieger (7) 4. Tim Moore (3) 5. Jimmy Davies (8) / 6. Harold Pohren (2) 7. John Greenwood (4) 8. Dave Getchell (6) 9. Chase Wanner (9) DNS – Kelly Graham, Mitchell Alexander, Matt Sutton
Contingencies
Weld – Matt Krieger
Saldana Racing Products – Jimmy Davies
SBI – Tim Moore
---
Submitted By: Admin Account
Back to News