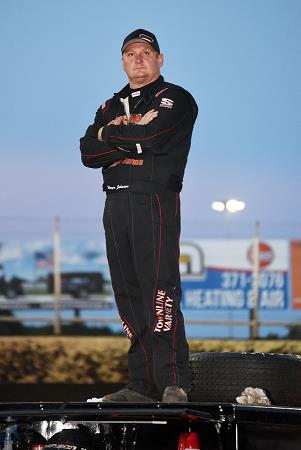 ---
Wednesdays with Wayne- Making Strides With the Maxim!
Wayne Johnson and the Two-C Racing team registered three top four finishes last weekend in their new Maxim chassis. That followed a Knoxville Nationals where Wayne fell just three spots short of the A main on Saturday night. Last Friday, he finished fourth with the Sprint Invaders at Lee County Speedway in Donnellson, Iowa before moving to Lucas Oil ASCS National action in Missouri in Farmington and Sedalia, where he finished fourth and third respectively. The team will take this weekend off before tackling the Jackson Nationals in Minnesota over Labor Day weekend.
Wayne drew a tough heat outside row four on Friday, with Danny Lasoski beside him and Jon Agan and Josh Schneiderman up front. He would surge to third. "Things were working better in the heat right away," he says. "We could really tell a difference with our new Maxim. The feature was pretty conducive to running the top, but we were able to make the bottom of three and four work. The problem was, that's where all the traffic was at was on the bottom."
Starting seventh, he would checker fourth. At St. Francois County Raceway near Farmington Saturday, he won his heat after starting third. "It was really slick," says Wayne. "They spent an hour working on the track before the feature. It helped it, but it still ended up pretty slick. We were pretty good there. I'd never been there, and that's a unique racetrack."
Starting eighth, he worked his way up to fourth. "With the Eagles, we had to set them up free," says Wayne. "They were right rear tight. I'm not making the greatest adjustments yet, but I'm getting there. I'm scared of going too far. So we were still a little free…but to come out of there running fourth, we were happy with that, especially starting eighth."
The Missouri State Fair Speedway in Sedalia saw Wayne go from row four to second in his heat, and registering the high point total of the night. "I was able to get by (Brad) Loyet there, and he won our last race at Sedalia," he says. "So we knew we had a pretty good car."
After starting fifth, at one point, he was making a move on Sam Hafertepe for second. "I was just a little too nice on the restart," says Wayne. "I slid Sam, but I gave him a little too much room. I had him cleared, but I haven't thrown a slide job all year that's worked until that one. So I wanted to make sure I gave him room. It was a learning experience for me."
Still, he would come home third, registering his first podium finish since he scored second place finishes in back to back events at Grays Harbor Raceway in Elma, Washington. He's hoping for more of the same and a win at Jackson next week.
Back to News