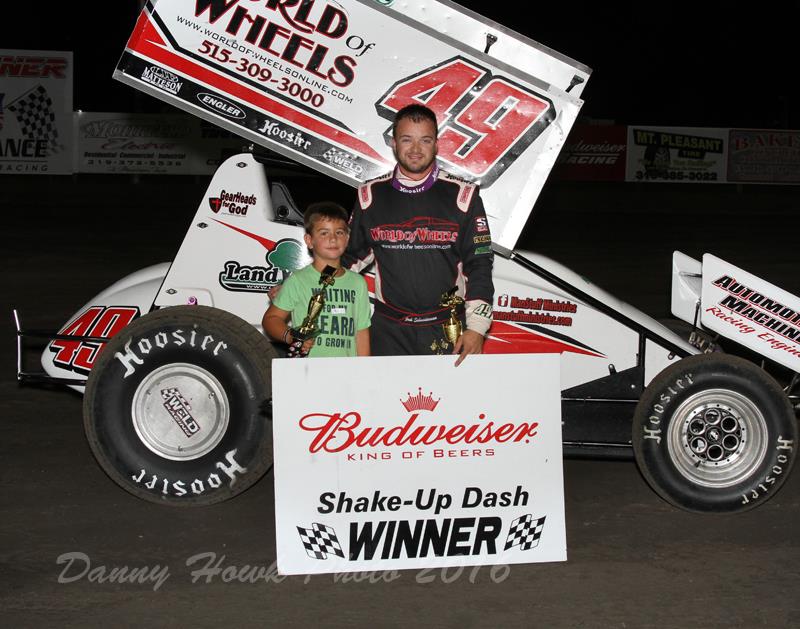 ---
Josh Schneiderman- Tales From Sprint Invaders Weekend!
Josh Schneiderman and the Deuce Motorsports #49 team spent the weekend with the Sprint Invaders in Southeast Iowa. The result was a top five at Lee County Speedway in Donnellson and a run from 11th to seventh at 34 Raceway in West Burlington, Iowa. This weekend will see Season Championship Night at the Knoxville Raceway. Josh is currently ninth in the point race.
Last Friday, Josh drew the pole for his heat. "I've always enjoyed racing at Donnellson," he says. :We had an exceptionally good draw, and with the class of cars we're getting, that's really important. We were able to win the heat, and then we drew well for the Dash as well (outside row one). The track was the best on the top like it normally is there. That ended up boding pretty well for us."
He won the Dash and drew a starting spot inside row two for the feature. "We just plum missed the setup for the feature," says Josh. "Our draw helped our uncle (winner John Schulz started on the pole) out again. We just weren't where we needed to be. The competition is tough, but we hung in there and did the best we could. We just needed to be a little better."
Josh would checker fifth. "It was a good racetrack," he says. "It was really racy, and they did a good job with it. We were capable of running a little better, but we can't complain about fifth."
That set up Saturday's event at 34. He drew a five for his heat and ran fourth. "It was our time to draw bad with the Sprint Invaders," says Josh. "Unfortunately, it was tough to pass on the track in the heat race. The track was a little rough, and a little fast. We're usually best when the bottom comes in and that was never the case Saturday. The weather with all the rain hurt them, and you have to respect the job they did with the track."
That set Josh inside row six for a feature he would run seventh in. "Honestly, we weren't happy with seventh, but we were happy to load it on the trailer at the end of the night with how rough it was," he says. "You want to win, but we were going forward. We're excited to get back there on September 17."
The team is excited about Knoxville Saturday. The National Sprint League will again be sanctioning. "I think we're pretty much locked into ninth," says Josh. "We're really pumped to get back there and finish this season strong. We're excited."
Visit Josh at the Trailer!
Stop by the trailer at each race or contact Josh to purchase your Josh Schneiderman race apparel! Our 2016 t-shirt design is available in black, royal blue and heather gray for $25. We also have a limited selection of hoodies available!
All 2015 t-shirts on SALE for ONLY $10.00 while supplies last. Don't miss out!
Need a koozie to keep your beverage cold on race nights? Deuce Motorsports koozies available for $2 each or 3 for $5.
Back to News