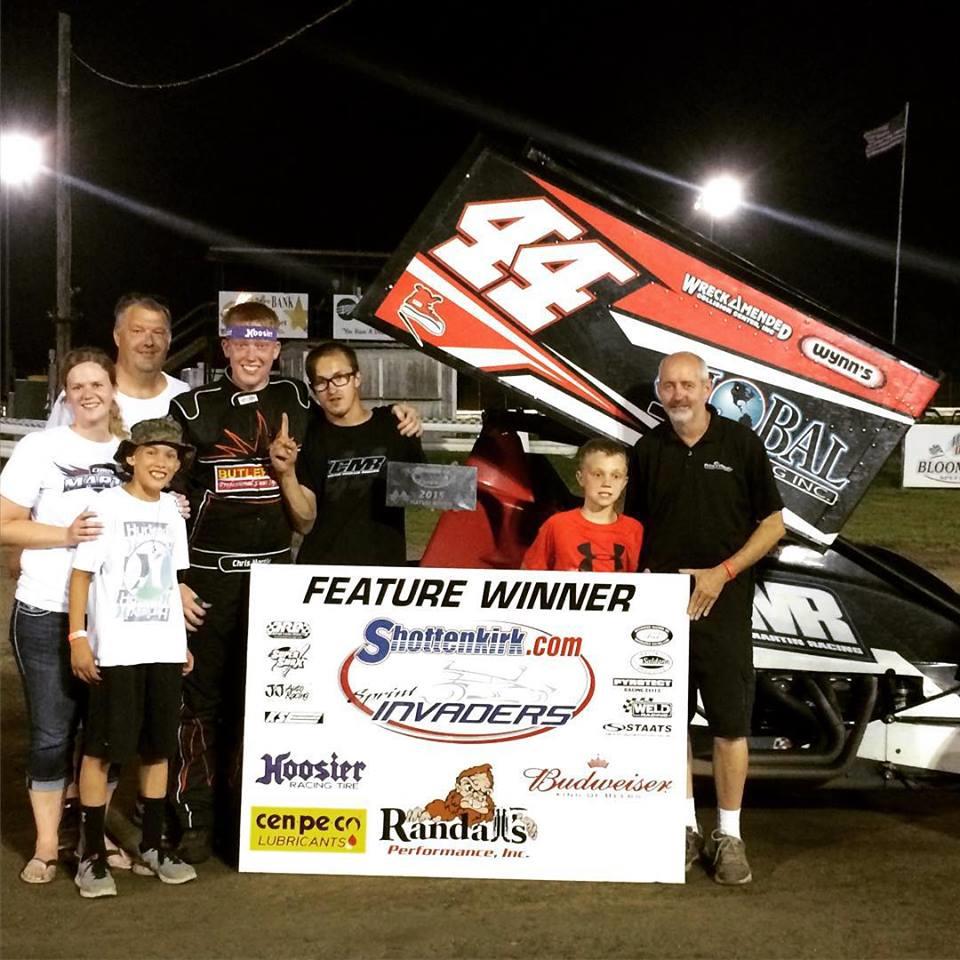 ---
Chris Martin Charges to Victory in Wild Non-Stop 25-Lapper in Quincy
Fans at Quincy Raceways Sunday night will be talking about this one for a while. Shottenkirk.com Sprint Invaders point leader, Chris Martin, put on a clinic, driving from ninth and knifing through traffic to capture the 25-lap non-stop feature here Sunday night. It was the nineteen-year-old driver's fourth win with the series in 2016. There were 26 cars in the field.
The dry-slick ¼-mile oval was a driver's track on Sunday. Veteran Ryan Jamison worked the bottom to lead lap one, before the savvy John Schulz rode the cushion to steal the point on the second circuit. Schulz led Jamison and another veteran, Robbie Standridge in the early going.
Another veteran, Randy Martin passed Standridge to move into the top three on lap seven, but Chris Martin was on the move. Starting inside row five, he rode the berm around the bullring and swallowed up spots along the way. He would pass Randy Martin for the show position on lap ten and gobbled up Jamison two laps later for second.
He stalked Schulz, who has three wins of his own this year, and slid him going into turn one on lap sixteen. From there he worked traffic masterfully, and pulled away for his fifth career win with the Sprint Invaders. Jamison snuck under Schulz for second on the last lap, with Standridge and Randy Martin in tow. Evan Martin, Josh Schneiderman, Dustin Homan, Harold Pohren and Cody Wehrle rounded out the top ten.
McKenna Haase got upside down hard in the first heat. She was uninjured but done for the night. Jimmy Davies Racing teammates Schulz and Standridge won heats. Homan was also a head winner, while Standridge claimed the Shake-up Dash. Nathan Charron won the B main.
"I had my work cut out for me tonight," said Martin in Victory Lane. "I didn't have an ideal heat race. I knew my crew would give me an excellent car, and I needed to drive the wheels off of it. I couldn't believe I had got to John (Schulz) when I got to him. I got past him, and I knew I had to make good consistent laps and not wreck myself. We were on the top, bottom, everywhere…it paid off."
"Starting on the pole, you kind of talk yourself into where you're going to go. I knew the top of one and two was a little faster. John got away from me up there, so I followed him for a while. Martin came just steaming by us, so I knew there was something up top. I moved up into the middle there and found a little something. That gave us enough to get by John for second. The track was pretty technical. You look at this field of drivers up front, and there's a lot of experience up there pedaling. I have to thank the Bergquist family again for this engine we're running, otherwise, we were done."
"It was one of those deals, when you're leading, that you don't know where the best place to be is," says Schulz. "We got caught down there on the bottom of three and four. The 44 was just better than us tonight. Once he got around me, he got away at the end. You hate to lead it for that long, and finish third, but some nights are like that. It turned into a good track. It had a top and a bottom and was a little tricky at times."
The Shottenkirk.com Sprint Invaders will wrap up 2016 with Season Championship Night, Saturday, September 17 at 34 Raceway in West Burlington, Iowa! For more information on the Shottenkirk.com Sprint Invaders, visit www.SprintInvaders.com!
Back to News