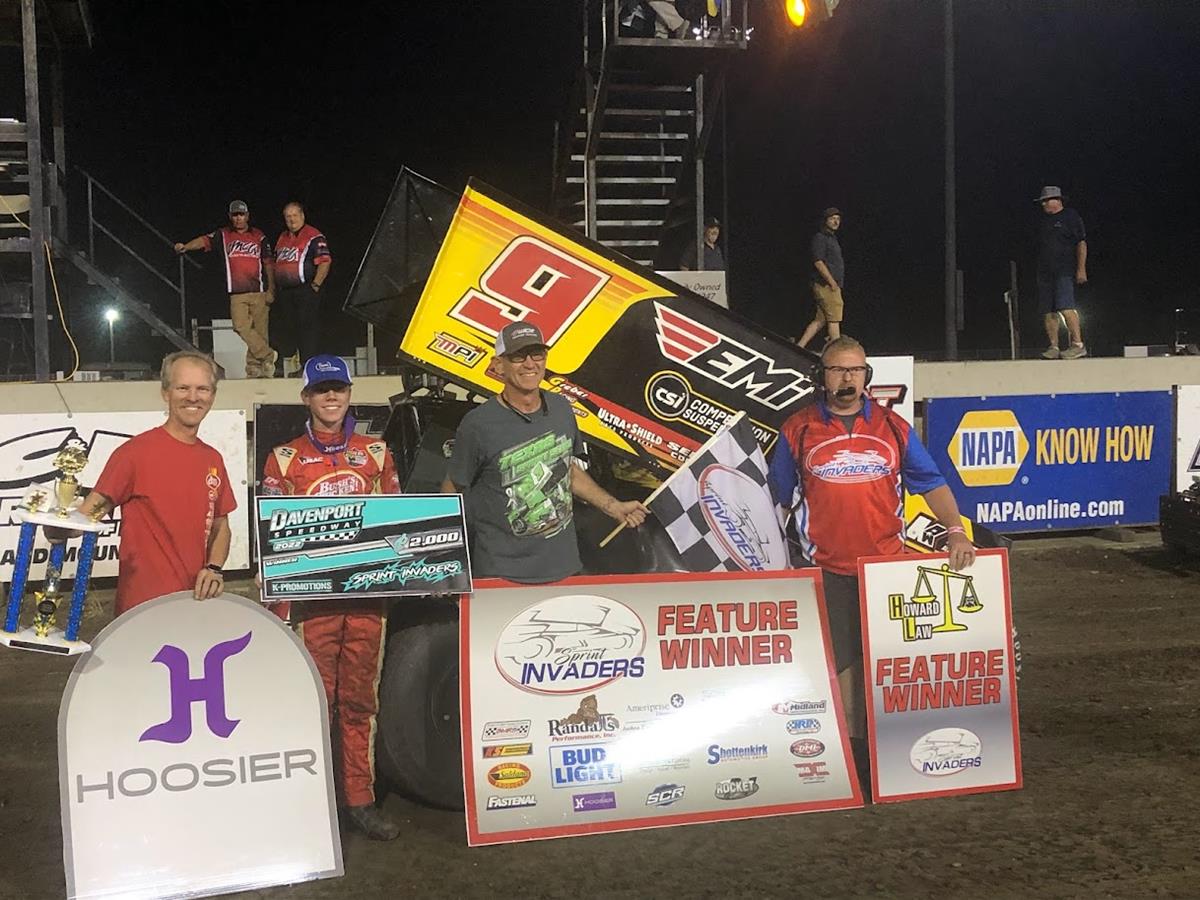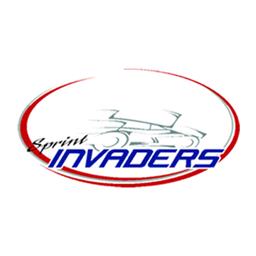 ---
Chase Randall Sweeps with Sprint Invaders in Davenport!
Chase Randall Sweeps with Sprint Invaders in Davenport!
(Bill W) Davenport, IA, June 25, 2022 – Chase Randall is taking a liking to the Sprint Invaders series. He posted his second win of the season at the Davenport Speedway on the Mississippi Valley Fairgrounds, winning his heat, the Dash and the 25-lap main event aboard his family's #9R. He was awarded $2,000 for his efforts.
Chris Martin edged the fourth-starting Randall to lead lap one before a tangle involving Austin Archdale and Chase Richards brought a caution. Jamie Ball got over the turn two berm on the quarter-mile on the restart, slowing things again.
Once green, Randall hit the low side of turn one to take the point from Martin on the restart. Third running, Paul Nienhiser, took a ride of his own over the turn two berm, but he was saved when Dustin Clark went over in the same spot and stopped to bring a caution.
With just two laps in the books, Randall led Chris Martin, Nienhiser, Devin Wignall and Colton Fisher. Dughan Thye spun on the ensuing restart, and then on the second try, Fisher got over turn two himself, but kept it going and drove away to the pits.
Randall was in lapped traffic by lap eight, dogged by Martin and Nienhiser as the lead trio separated themselves. On lap ten, the end almost came for all three. Thye and Clark tangled in turn three right in front of the leaders. Randall and Martin went over the top of turn three to avoid, while Nienhiser somehow split the pair.
The final 15 laps went non-stop. Randall was back in traffic the final ten laps, but was never seriously challenged. Nienshier gained on Martin in the late going, and sniped second from him coming for the white flag. Evan Martin and Bret Triplett followed. Devin Kline, Ryan Jamison, Wignall, Cody Wehrle and Josh Schneiderman rounded out the top ten. Ball and Evan Martin joined Randall as heat winners. Bill Balog suffered a hard night in the Fossil Racing #26. Leading his heat, the nose wing came askew. He looked to be headed to the win, nonetheless, but he went up in smoke coming for the white flag and was done for the night.
"We had one to many (restarts)," said Randall in Victory Lane. "It was a good race, especially early on when it was really racy. There were some big sliders. Halfway through the race, I felt my pace slow down. I wasn't catching the lapped cars as fast as the beginning. I kind of had to play a little defense. Once I found the rubber (on the top), I couldn't figure out where I needed to be. I kind of followed Jamie Ball in the rubber and figured no one could pass me. Starting fourth and getting to the win is pretty cool. I was a lucky miss in traffic (when the lappers tangled in front of him)."
"We were alright," said Nienhiser. "I was talking to Chris (Martin) about the race too. We both said we made a lot of mistakes out there. I'm guilty of a couple that I feel cost us a lot of space on the racetrack. Chase was really fast again, and the track was laying rubber on the top with everyone in the same line. You can't hang your head too much about being second."
"The cautions, I don't think helped us," said Martin. "Randall could really get going a lot better on the restarts than we could. He drove a better 25 laps than I did. (The near-miss with the tangled lappers) was really close. I don't know exactly how they got tangled up, all I know is they were sitting there and one was starting to roll up the track, so we were very lucky to get past that situation. We still need to get a little better."
The Sprint Invaders next action will be Saturday, June 25 at the 34 Raceway in West Burlington, Iowa. For more information on the Sprint Invaders, visit www.SprintInvaders.org or look us up on Facebook.
Sprint Invaders Results
Howard Law A main (started), 25 laps: 1. 9R, Chase Randall, Waco, TX (4) 2. 50, Paul Nienhiser, Chapin, IL (2) 3. 44, Chris Martin, Ankeny, IA (1) 4. 4, Evan Martin, Lohman, MO (5) 5. 99, Bret Tripplett, Lincoln, IL (7) 6. 7c, Devin Kline, Knoxville, IA (10) 7. 51J, Ryan Jamison, Mediapolis, IA (12) 8. 21, Devin Wignall, Altoona, IA (3) 9. 40, Cody Wehrle, Burlington, IA (9) 10. 49, Josh Schneiderman, West Burlington, IA (11) 11. 78, Ben Wagoner, Emden, IL (13) 12. 7, Tyler Lee, Cedar Rapids, IA (16) 13. 35, Jamie Ball, Knoxville, IA (6) 14. 81, Tanner Gebhardt, Burlington, IA (15) 15. 2A, Austin Archdale, Brimfield, IL (18) 16. 4x, Chase Richards, Burlington, IA (19) 17. 31, McClain Richards, Burlington, IA (20) 18. 14, Aidan Zoutte, Knoxville, IA (21) 19. 11T, Dugan Thye, Burlington, IA (14) 20. 16, Dustin Clark, Agency, IA (17) 21. 11, Colton Fisher, Mediapolis, IA (8) DNS – 42P, Preston Perlmutter, San Antonio, TX, 26, Bill Balog, Hartland, WI. Lap Leaders: C. Martin 1, Randall 2-25. KSE/$75 Christine Wahl-Levitt Hard-charger: Jamison. $50 CenPeCo Mystery Spot: Clark. $50 Double J Smoke Shack Mystery Spot: Tripplett.
Randall's Performance Heat one (started), 8 laps: 1. Jamie Ball (1) 2. Bret Tripplett (2) 3. Ryan Jamison (3) 4. Paul Nienhiser (7) 5. Devin Kline (8) 6. Dustin Clark (6) 7. McCain Richards (4) 8. Preston Perlmutter (5)
Joshua Denning & Associates Heat two (started), 8 laps: 1. Evan Martin (2) 2. Devin Wignall (4) 3. Ben Wagoner (3) 4. Cody Wehrle (6) 5. Josh Schneiderman (8) 6. Austin Archdale (5) 7. Chase Richards (7) 8. Bill Balog (1)
Mohrfeld Solar Heat three (started), 8 laps: 1. Chase Randall (3) 2. Colton Fisher (2) 3. Chris Martin (5) 4. Dugan Thye (4) 5. Tanner Gebhardt (6) 6. Tyler Lee (7) 7. Aidan Zoutte (1)
Shottenkirk Automotive Shake-up Dash (started), 6 laps: 1. Chase Randall (1) 2. Evan Martin (2) 3. Jamie Ball (4) 4. Chris Martin (5) 5. Paul Nienhiser (6) 6. Devin Wignall (3)
Contingencies
DMI: Tyler Lee
Saldana Racing Products: McCain Richards
Trophy Sponsor: Campbell's Body Shop & Towing
Back to News