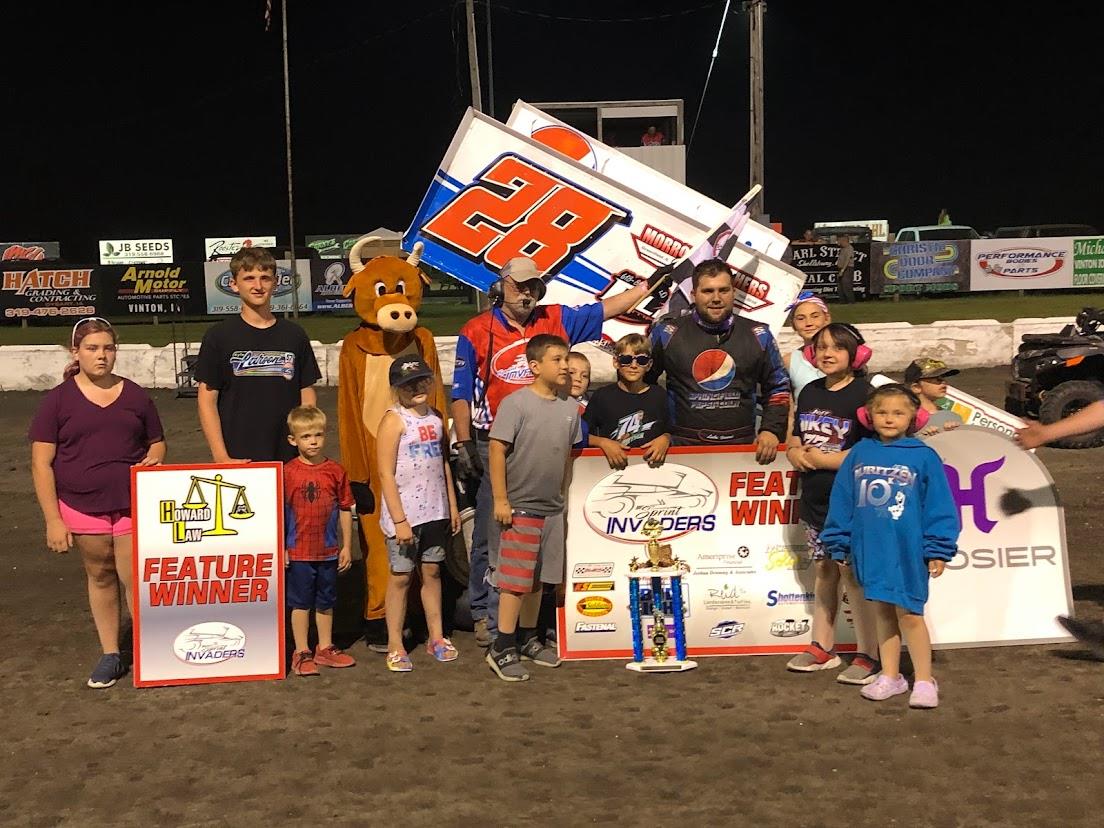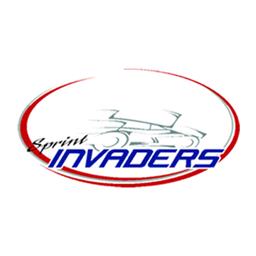 ---
Luke Verardi Captures First Ever Sprint Car Win in Vinton with Sprint Invaders!
Luke Verardi Captures First Ever Sprint Car Win in Vinton with Sprint Invaders!
(Bill W) Davenport, IA, July 3, 2022 – Luke Verardi of Taylorville, Illinois picked up his first ever sprint car victory Sunday night on the Benton County Speedway bullring in Vinton, Iowa. The Sprint Invaders tally was worth $2,000 for the driver of the Verardi Bros. Racing #28.
Verardi got the jump from the pole in the 25-lap main event. Devin Wignall, Paul Nienhiser and Chris Martin were in chase. Wignall used the cushion in turn four to take the lead on lap two, while Martin snagged third from Nienhiser.
Wignall led the charge on the cushion, while Verardi stayed within striking distance. On lap nine, Verardi made a move low in turn two to take back the point. Shortly after, Chase Richards spun in turn two to bring the only caution of the event.
Verardi led Wignall, Martin, Nienhiser and Riley Goodno back to green flag racing. Rubber was developing on the ¼-mile at that point, making passing hard in the late going. Nienhiser worked his way by Martin for third on lap 19 and then passed Wignall low in turn two for second coming for the white flag.
Verardi was cruising up front and raced to the checkers ahead of Nienhiser, Wignall, Martin and Chase Randall. Cody Wehrle, hard-charger Bret Tripplett, Goodno, Colton Fisher and JJ Hickle rounded out the top ten. Nienhiser, Martin and Goodno were heat winners, while Martin also claimed the Dash. Aidan Zoutte took a hard tumble in hot laps, destroying his car. He was uninjured, but done for the night.
"This is actually my first sprint car win," said an excited Verardi in Victory Lane. "This is my second year racing sprint cars. We started out in micro-sprints and quarter midgets starting out at five years old. This is a dream come true! To all you kids out there, hold onto your dreams, and just keep chugging. I was pretty committed to the bottom at first, and then saw (Wignall) get around me on top. I figured I ought to give it a try up there and it stuck. It just kept getting better and better, and obviously, rubber came into play at the end. I couldn't ask for a better car."
"It took rubber a little sooner than anticipated," said Nienhiser. "It seemed like I was maybe able to save my tires a little better than the guys in front of me sliding around a little bit. There at the end, you could see we had some drive off. We were able to slip underneath (Martin) and (Wignall)."
"I felt pretty comfortable out front in clean air, and I started catching the back of the field," said Wignall. "I started searching around, and got caught through the middle right before that caution. I used up my tires after that and had nothing for the leader. This is only the fifth time I've run a 360. Two consecutive dashes and finishing on the podium tonight…I can't complain."
The Sprint Invaders next action will be Thursday, July 14 at the Bloomfield Speedway in Bloomfield, Iowa as part of the festivities surrounding the Davis County Fair. For more information on the Sprint Invaders, visit www.SprintInvaders.org or look us up on Facebook.
Sprint Invaders Results
Howard Law A main (started), 25 laps: 1. 28, Luke Verardi, Taylorville, IL (1) 2. 50, Paul Nienhiser, Chapin, IL (4) 3. 21, Devin Wignall, Altoona, IA (2) 4. 44, Chris Martin, Ankeny, IA (3) 5. 9R, Chase Randall, Waco, TX (11) 6. 40, Cody Wehrle, Burlington, IA (10) 7. 99, Bret Tripplett, Lincoln, IL (16) 8. 22, Riley Goodno, Knoxville, IA (5) 9. 11, Colton Fisher, Mediapolis, IA (6) 10. 78, JJ Hickle, Quilcene, WA (7) 11. 2, Chase Porter, St. Joseph, MO (9) 12. 35, Jamie Ball, Knoxville, IA (8) 13. 81, Tanner Gebhardt, Burlington, IA (17) 14. 51J, Ryan Jamison, Mediapolis, IA (15) 15. 7c, Tony Shilling, Knoxville, IA (13) 16. 11T, Dugan Thye, Burlington, IA (19) 17. 8L, Tom Lenz, Marion, IA (18) 18. 7, Tyler Lee, Cedar Rapids, IA (12) 19. 5, Gage Pulkrabek, Grand Forks, ND (14) 20. 4x, Chase Richards, Burlington, IA DNS – 7a, Jack Anderson, Newton, IA, 14, Aidan Zoutte, Knoxville, IA Lap Leaders: Verardi 1, Wignall 2-8, Verard 9-25. KSE/$75 Christine Wahl-Levitt Hard-charger: Tripplett. $50 CenPeCo Mystery Spot: Thye.
Randall's Performance Heat one (started), 8 laps: 1. Paul Nienhiser (3) 2. Luke Verardi (1) 3. Chase Porter (4) 4. Devin Wignall (7) 5. Ryan Jamison (2) 6. Bret Tripplett (6) 7. Dugan Thye (5) 8. Chase Richards (8)
Joshua Denning & Associates Heat two (started), 8 laps: 1. Chris Martin (3) 2. JJ Hickle (1) 3. Colton Fisher (5) 4. Tony Shilling (2) 5. Tyler Lee (7) 6. Tanner Gebhardt (4) 7. Jack Anderson (6)
Mohrfeld Solar Heat three (started), 8 laps: 1. Riley Goodno (3) 2. Jamie Ball (1) 3. Cody Wehrle (4) 4. Chase Randall (6) 5. Gage Pulkrabrek (5) 6. Tom Lenz (2) DNS – Aidan Zoutte
Shottenkirk Automotive Shake-up Dash (started), 6 laps: 1. Chris Martin (2) 2. Paul Nienhiser (1) 3. Riley Goodno (3) 4. Colton Fisher (4) 5. Luke Verardi (6) 6. Devin Wignall (5)
Contingencies
DMI: Tanner Gebhardt
Saldana Racing Products: Gage Pulkrabek
BMRS High Point – Paul Nienhiser
$50 Reid's Landscaping Draw: Chase Randall
Trophy Sponsor: Campbell's Body Shop & Towing
Back to News