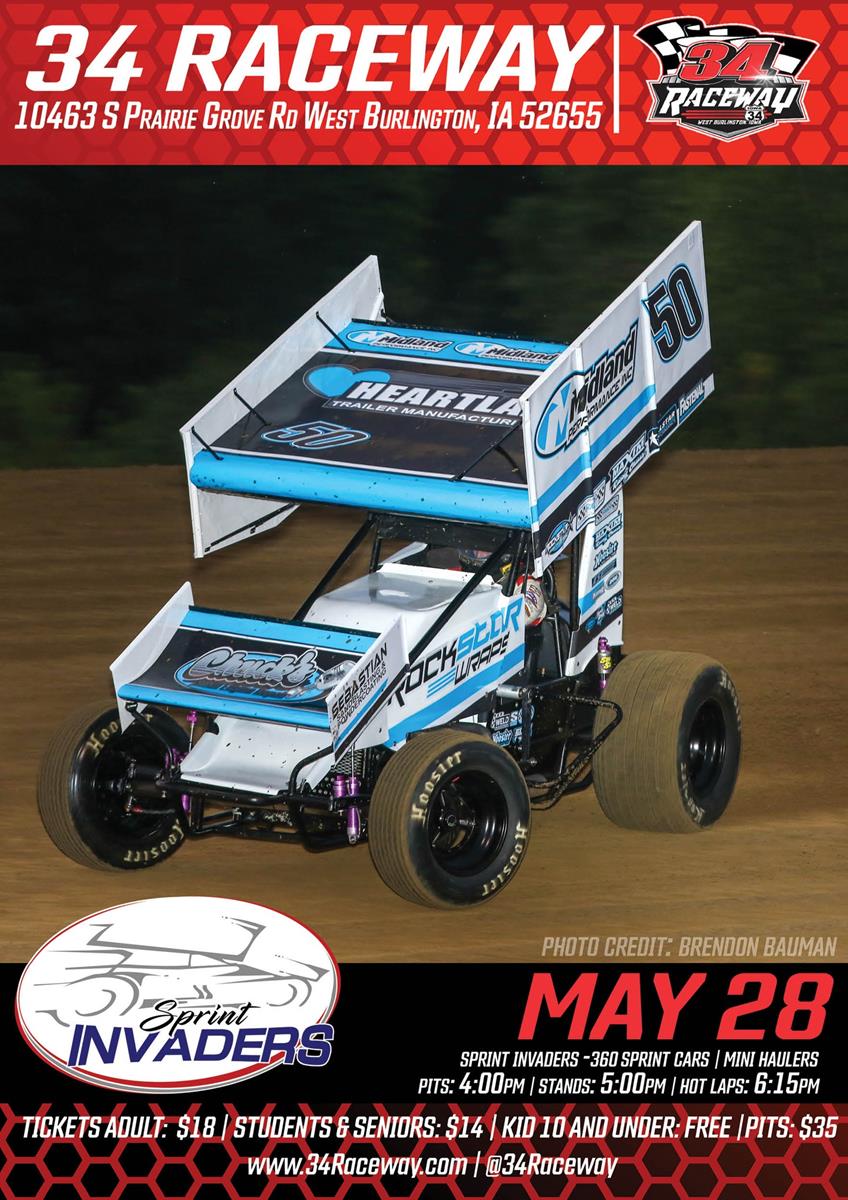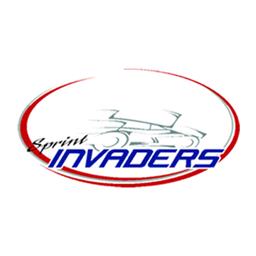 ---
Sprint Invaders' 22nd Season Kicks Off Sunday at 34 Raceway!
Sprint Invaders' 22nd Season Kicks Off Sunday at 34 Raceway!
(Bill W) May 24, 2023 – The long-anticipated Sprint Invaders season kicks off this Sunday, May 28 at the 34 Raceway in West Burlington, Iowa! Thirteen events at eleven different tracks make up the 2023 campaign for the Sprint Invaders.
Sunday marks the series' 65th visit to 34 Raceway. Seventy-three features have been run at the 3/8-mile oval. Jerrod Hull and Matt Rogerson top the all-time win list with the Sprint Invaders at 34 with five apiece. John Schulz, Dustin Selvage and Josh Schneiderman have four to their credit, Bobby Mincer, Kaley Gharst, Matt Sutton, Ryan Jamison, Jon Agan and Paul Nienhiser have three, and two-time winners include Mike Houseman Jr., Joey Moughan, Chris Martin, Terry McCarl and Chase Randall.
Randall swept last year's events at 34 Raceway, winning both in May and at the $5,000 "Fall Haul" in September.
Cody Wehrle enters 2023 as the defending champion. Jamie Ball, Nienhiser, Colton Fisher and Randall completed the top five last season.
Grandstands open on Sunday at 5 p.m. with hot laps scheduled for 6:15 p.m. Mini-haulers are also on the card. Tickets are $18 for adults and $14 for students and seniors. Kids 10 and under are FREE. For more information, visit 34Raceway.com.
Jern's Heating and Air Conditioning
Jern's Heating and Air Conditioning will be sponsoring Sunday's "Shake-Up Dash." Jern's Heating & Air Conditioning, Inc., in Burlington, IA, is the area's premier heating and cooling specialist serving Des Moines, Lee, Henry, Henderson and Hancock counties since 2000. We specialize in air conditioning, furnaces, geothermal heating and cooling, HVAC, new construction and more. For all your heating and cooling needs, contact Jern's Heating & Air Conditioning, Inc.
2023 Sprint Invaders Schedule
Saturday, April 1 – 34 Raceway (Cold)
Sunday, May 28 – 34 Raceway (West Burlington, IA)
Thursday, June 15 – Eldon Raceway (Eldon, IA)
Friday, June 23 – Davenport Speedway (Davenport, IA)
Saturday, June 24 – Spoon River Speedway (Canton, IL)
Friday, June 30 – Jacksonville Speedway (Jacksonville, IL)
Sunday, July 2 – Benton County Speedway (Vinton, IA)
Wednesday, July 26 – Dubuque Speedway (Dubuque, IA)
Saturday, August 19 – Peoria Speedway (Peoria, IL)
Sunday, August 20 – Adams County Speedway (Quincy, IL)
Saturday, September 2 – West Liberty Raceway (West Liberty, IA)
Sunday, September 3 – Benton County Speedway (Vinton, IA)
Friday, September 22 – Lee County Speedway (Donnellson, IA)
Saturday, September 23 – 34 Raceway (West Burlington, IA) "Fall Haul"
2022 Sprint Invaders Top 20 Driver Points (Feature Wins)
Cody Wehrle, Burlington, IA, 2272
Jamie Ball, Knoxville, IA, 2243
Paul Nienhiser, Chapin, IL, 2217 (1)
Colton Fisher, Mediapolis, IA, 2191
Chase Randall, Waco, TX, 2169 (6)
Bret Tripplett, Lincoln, IL, 2132
Devin Wignall, Altoona, IA, 2115
Tanner Gebhardt, Burlington, IA, 2108
Ryan Jamison, Mediapolis, IA, 2055
Dugan Thye, Burlington, IA, 2011
Tyler Lee, Cedar Rapids, IA, 2004
Chase Richards, Burlington, IA, 1940
Chris Martin, Ankeny, IA, 1706
McCain Richards, Burlington, IA, 1331
Riley Goodno, 1225 (1)
Aidan Zoutte, Knoxville, IA, 1148
Austin Archdale, Brimfield, IL, 1086
Luke Verardi, Taylorville, IL, 994
Cam Martin, Ankeny, IA, 983
Dustin Clark, Agency, IA, 977
Series Sponsors
Shottenkirk Automotive is the A main sponsor. Randall's Performance of Gladstone, Illinois, Joshua Denning & Associates of Fort Madison, Iowa, Mohrfeld Solar of Fort Madison, and Golden Eagle Distributors of Mount Pleasant, Iowa are heat sponsors. Campbell's Body Shop & Towing will be the Trophy Sponsor. Reid's Landscapes and Turf will award $50 to anyone drawing a 50 pill to begin the night. A hard-charger award will be presented each night in honor of Christine Wahl Levitt. That is presented by Scott Donlan.
K-1 Race Gear Sponsors Champion and Rookie of the Year
K-1 Race Gear will award a custom fit uniform to not only this season's Sprint Invaders Champion, but also the Rookie of the Year with the series.
From K-1 Race Gear: "K-1 Race Gear is proud to be partnered with the Sprint Invaders! More drivers trust K1 Race Gear with all of their safety product needs than any other brand on the market. Whether it is Premium custom suits, gloves or shoes, K1 Race Gear has you covered. Find out more at www.k1racegear.com and follow us along at @k1racegear on all social media platforms. K1 Race Gear. The racer's brand of safety gear and apparel."
K1 Race Gear was born in 2003 with the philosophy of offering products to our customers that we ourselves would be proud to use. At K1 Race Gear, we are racers ourselves, and we understand the value of buying quality racing products at a reasonable price. To meet the needs of our customers, we strive to provide quality racing equipment at K1 Race Gear - including racing shoes, suits, driving gloves, helmets, and more - to racers of all ages at a great value. Whether your son or daughter is just starting out in the sport or you have a life-long passion for racing, we have the products for you in our full line of K1 Race Gear. If you are interested in purchasing karting or racing equipment, including racing shoes, suits, and driving gloves, contact K1 Race Gear today!
Bill W Media
Monroe, IA USA
sprntcar@hotmail.com
Twitter: @BillWMedia
Website: www.OpenWheel101.com
Back to News