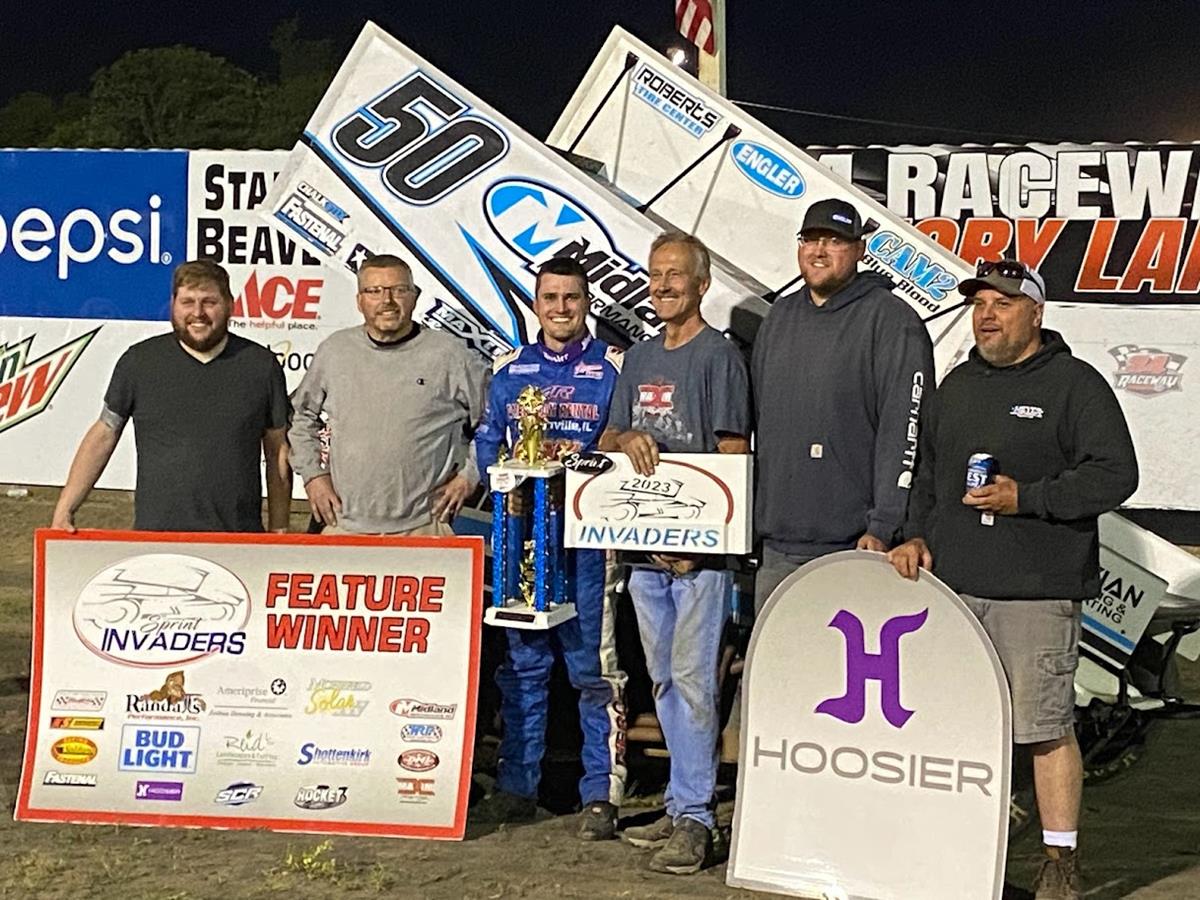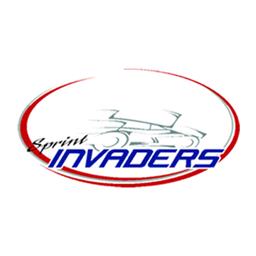 ---
Paul Nienhiser Opens Sprint Invaders Season with Win at 34 Raceway!
Paul Nienhiser Opens Sprint Invaders Season with Win at 34 Raceway!
(Bill W) West Burlington, IA, May 28, 2023 – In 2022, Paul Nienhiser lost count of the number of second place finishes he had. He began the 22nd Sprint Invaders season with a victory Sunday at 34 Raceway in West Burlington, Iowa. The Chapin, Illinois driver hopes his $2,000 win aboard the Scott Bonar #50 has set a new trend.
Nienhiser led the 25-lap feature from the outset. Josh Higday spun two laps in, setting up a restart that had Nienhiser leading Cody Wehrle, Luke Verardi, Bret Tripplett and Colton Fisher back to green. While Nienhiser pulled away Verardi battled by Wehrle in a good battle for second on lap four.
Nienhiser dominated the action, but a furious battle for second, third, fourth and fifth places broke out. As Nienhiser entered traffic, Verardi, Tripplett and Wehrle could have had a blanket thrown over them as they swapped spots. Fisher entered the fray as well, and gained fourth from Wehrle on lap fifteen.
Two cirucits later, Wehrle returned the favor. Meanwhile, Tripplett was bidding for second. With five laps to go, he tried a slider on Verardi, but didn't have the room to clear him. Verardi went over the turn two berm to avoid him and caught the tires entering the pit area. He was unhurt, but done.
The restart erased over a half lap lead for Nienhiser and set up a restart for him ahead of Tripplett, Wehrle, Fisher and Ryan Bunton. Tyler Lee had a top ten run going, but spun with two laps to go. Unfortunately, on the restart, he turned over in turn two.
Nienhiser closed out the win the final two laps, followed by Tripplett, Wehrle, Fisher and Devin Wignall. Bunton, hard-charger Tanner Gebhardt, Dustin Clark, Ryan Jamison and Chase Richards rounded out the top ten. Nienhiser, Wehrle and Clark won heat races. Tripplett claimed the Shake-up Dash.
"You kind of have an idea when you're making pretty good laps," Nienhiser said of his big lead early on. "Plenty of guys behind me have laps here just like me, so I knew if I wasted enough time in lapped traffic, it may be a matter of time before they caught up. I was keeping an eye out for patchy rubber where I would maybe move off the top a little bit. I just used that to my advantage late in the race."
"I felt like we had a good car," said Tripplett. "The Dash redraw didn't go great (five). I knew when I was running with the front group that we had a good car. I was hoping for the race to stay green. When I was passing for second, I was hoping Verardi saw me underneath there. I don't think we ever touched, but I think I scared him quite a bit, so I hope he's not to upset about that. I had nothing for Nienhiser on the restarts. As we got to racing, the track was pretty racy."
"Anytime you start the year with a new car, and haven't run it anywhere not even to hot lap, it hangs over your head about how it's going to go," said Wehrle. "It's a great way to start the year. We're looking forward to the rest of the year. It was fun. It was a good track. We were just a little free to really do what we needed to do. I didn't want to run the top with the rest of those guys. The bottom was good enough to stay in there. If that made it exciting, that's the name of the game."
The Sprint Invaders next event will be Thursday, June 15, at the Eldon Raceway in Eldon, Iowa during the Wapello County Fair.
For more information on the Sprint Invaders, visit www.SprintInvaders.net or visit us on Facebook.
Sprint Invaders Results
Shottenkirk Automotive Group A main (started), 25 laps: 1. 50, Paul Nienhiser, Chapin, IL (1) 2. 99, Bret Tripplett, Lincoln, IL (5) 3. 40, Cody Wehrle, Burlington, IA (3) 4. 11, Colton Fisher, Mediapolis, IA (7) 5. 21, Devin Wignall, Altoona, IA (10) 6. 6R, Ryan Bunton, Morton, IL (6) 7. 81, Tanner Gebhardt, Burlington, IA (15) 8. 16, Dustin Clark, Agency, IA (4) 9. 51J, Ryan Jamison, Mediapolis, IA (13) 10. 4x, Chase Richards, Burlington, IA (9) 11. 1E, Josh Higday, Des Moines, IA (14) 12. 2A, Austin Archdale, Brimfield, IL (11) 13. 41, Noah Samuel, Burlington, IA (16) 14. 31, McCain Richards, Burlington, IA (17) 15. 70, Eric Shelton, Decatur, IL (21) 16. 25, Kelly Graham, Hedrick, IA (18) 17. 78, Dillan Roth, Burlington, IA (20) 18. 11T, Dugan Thye, Burlington, IA (8) 19. 7, Tyler Lee, Cedar Rapids, IA (12) 20. 28, Luke Verardi, Taylorville, IL (2) 21. 7B, Nick Guernsey, Burlington, IA (19) 22. 357, Ryan Edwards, Waverly, IL (22). Lap Leaders: Nienhiser 1-25. $75 Christine Wahl-Levitt/KSE Hard-charger: Gebhardt. $50 JJ's Smoke Shack Smoke Spot: Jamison.
Randall's Performance Heat one (started), 8 laps: 1. Paul Nienhiser (2) 2. Ryan Bunton (3) 3. Chase Richards (1) 4. Colton Fisher (6) 5. Tanner Gebhardt (5) 6. Josh Higday (8) 7. Dillan Roth (4) 8. Ryan Edwards (7)
Joshua Denning & Associates Heat two (started), 8 laps: 1. Cody Wehrle (3) 2. Luke Verardi (7) 3. Devin Wignall (1) 4. Dugan Thye (5) 5. Ryan Jamison (6) 6. Kelly Graham (4) 7. Eric Shelton (2)
Mohrfeld Solar Heat three (started), 8 laps: 1. Dustin Clark (2) 2. Bret Tripplett (6) 3. Austin Archdale (1) 4. Tyler Lee (4) 5. Noah Samuel (3) 6. McCain Richards (5) 7. Nick Guernsey (7)
Jern's Heating and Air Conditioning Shake-up Dash (started), 6 laps: 1. Bret Tripplett (2) 2. Ryan Bunton (6) 3. Paul Nienhiser (4) 4. Luke Verardi (1) 5. Cody Wehrle (3) 6. Dustin Clark (5)
Reid's Landscaping & Turf $50 Draw Award: None
Contingencies
DMI: McCain Richards
Saldana: Tyler Lee
BMRS High Point Driver: Luke Verardi
K-1 Race Gear: Chase Richards
Trophy Sponsor: Holtkamp's Trailer Repair
Back to News