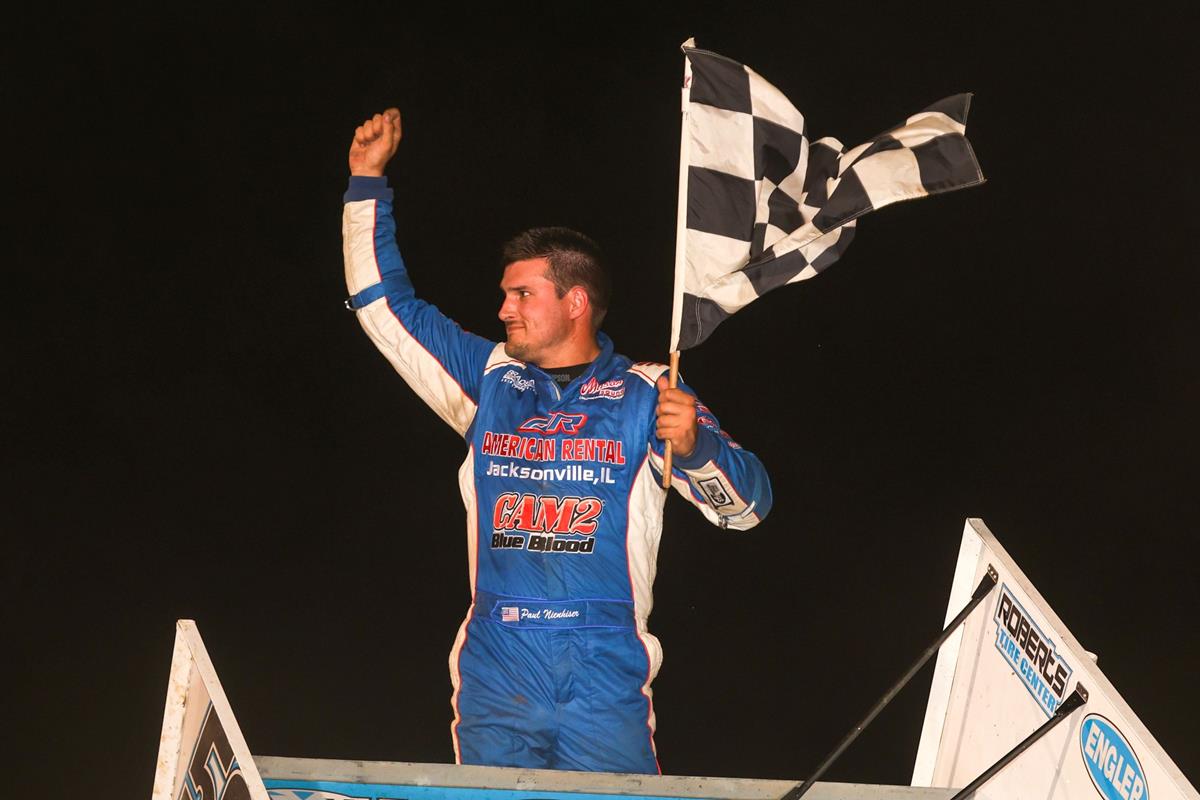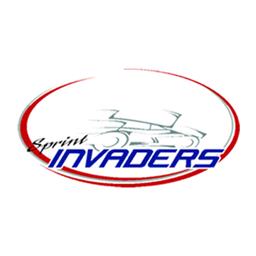 ---
Paul Nienhiser Gets Revenge in Dubuque with Sprint Invaders!
Paul Nienhiser Gets Revenge in Dubuque with Sprint Invaders!
(Bill W) Dubuque, IA, July 26, 2023 – The Dubuque Fairgrounds Speedway had been a source of bad luck for driver Paul Nienhiser and owner Scott Bonar in the past, but Wednesday, they put it behind them with a convincing Sprint Invaders win. Nienhiser became the eighth different driver to win on the high banks of Dubuque in the nine visits the series has made. The Chapin, Illinois driver earned $2,000 for his ninth career Sprint Invaders victory, and second of the year.
Jamie Ball, who had convincingly won the Shake-up Dash, led early in the 25-lap feature, ahead of Nienhiser, Josh Higday and Chris Martin. Martin grabbed third from Higday on lap three, but the latter battled back and pulled away in the how position.
Up front, Ball was committed to the low side, and Nienhiser, the cushion up top. On lap five, Nienhiser had a good run in turns three and four and passed Ball coming for the start/finish line. He entered lapped traffic on lap eight before a caution came out for Cam Martin, who had a flat right rear. Under caution, the third running Higday also pulled off with a flat right rear.
Nienhiser led Ball, Chris Martin, Cody Wehrle and Dustin Clark. Ball made a bid for the lead when the green flew that fell short. Chris Martin took advantage of Ball, and moved by into the second spot. Nienhiser was back in lapped traffic by the seventeenth circuit, and appeared to be cruising to a win when Devin Wignall did a 360 spin with two to go. Nienhiser had lapped up to ninth place.
Nienhiser had no problem leading the rest of the way with a green, white, checker finish. Ball ducked under Martin on the last lap in turn four to claim second. Clark was fourth and Tyler Lee was fifth. Wehrle, hard-charger Bret Tripplett, Ryan Bunton, Luke Verardi and Colton Fisher rounded out the top ten. Nienhiser, Higday and Chris Martin were heat race winners.
"We always love coming to Dubuque," said Nienhiser in Victory Lane. "There are a lot of great fans here and we appreciate the atmosphere. We were kind of good early tonight, then had to work on our stuff a bit. I felt like we were pretty killer in the feature. I feel like this place owes me a couple. Jamie is a pro and had a really good car tonight. I could tell he was asset for the bottom. We feel like the fast way around here is usually the top, even if the bottom is fast. We had a good racecar and that made my job a lot easier."
"We absolutely set up for the bottom there after how good we were all night," said Ball. "Sixth to second in the heat and third to first in the Dash. We were hoping it would hold on a little big longer…we were good but Paul was better in three and four and that showed when he passed me. I love racing with Chris. It's just good clean racing. On the last lap, I went to pass him, and I really felt the right rear dig in and knew it was cut. I started drifting towards him. I'm glad it wasn't another lap. I'm really excited about our race team."
"I thought initially I would be set up good around the bottom," said Chris Martin. "The track changed quite a bit and I should have known better. But overall, it was a great race. Being able to race for second, and maybe throw something on a restart…overall, it was just a great night."
The Sprint Invaders will see a two-race Illinois weekend in their next action. On Saturday, August 19, they'll visit the Peoria Speedway, and then move to the Adams County Speedway in Quincy on Sunday, August 20.
For more information on the Sprint Invaders, visit www.SprintInvaders.net or visit us on Facebook.
Sprint Invaders Results
Shottenkirk Automotive Group A main (started), 25 laps: 1. 50, Paul Nienhiser, Chapin, IL (4) 2. 4w, Jamie Ball, Knoxville, IA (1) 3. 44, Chris Martin, Ankeny, IA (3) 4. 16, Dustin Clark, Agency, IA (6) 5. 7, Tyler Lee, Cedar Rapids, IA (10) 6. 40, Cody Wehrle, Burlington, IA (5) 7. 99, Bret Tripplett, Lincoln, IL (16) 8. 6R, Ryan Bunton, Morton, IL (9) 9. 28, Luke Verardi, Taylorville, IL (11) 10. 11, Colton Fisher, Mediapolis, IA (8) 11. 21, Devin Wignall, Altoona, IA (13) 12. 83, Kurt Mueller, Reynolds, IL (12) 13. 4x, Chase Richards, Burlington, IA (14) 14. 81, Tanner Gebhardt, Burlington, IA (7) 15. 1E, Josh Higday, Des Moines, IA (2) 16. 4, Cam Martin, Ankeny, IA (15) DNS – 22, Riley Goodno, Knoxville, IA, 31, McCain Richards, Burlington, IA. Lap Leaders: Ball 1-4, Nienhiser 5-25. $75 Christine Wahl-Levitt/KSE Hard-charger: Tripplett.
Randall's Performance Heat one (started), 8 laps: 1. Paul Nienhiser (1) 2. Jamie Ball (6) 3. Ryan Bunton (2) 4. Tyler Lee (3) 5. Devin Wignall (4) 6. Cam Martin (5)
Joshua Denning & Associates Heat two (started), 8 laps: 1. Josh Higday (6) 2. Cody Wehrle (3) 3. Tanner Gebhardt (5) 4. Kurt Mueller (1) 5. Chase Richards (4) 6. Bret Tripplett (2)
Mohrfeld Solar Heat three (started), 8 laps: 1. Chris Martin (6) 2. Dustin Clark (4) 3. Colton Fisher (5) 4. Luke Verardi (3) 5. Riley Goodno (2) 6. McCain Richards (1)
Shake-up Dash (started), 6 laps: 1. Jamie Ball (3) 2. Josh Higday (1) 3. Chris Martin (2) 4. Paul Nienhiser (5) 5. Cody Wehrle (6) 6. Dustin Clark (4)
Reid's Landscaping & Turf $50 Draw Award: Chris Martin
Contingencies
DMI: Chase Richards
Saldana: Devin Wignall
BMRS High Point Driver: Josh Higday
Trophy Sponsor: Holtkamp's Trailer Repair
Back to News