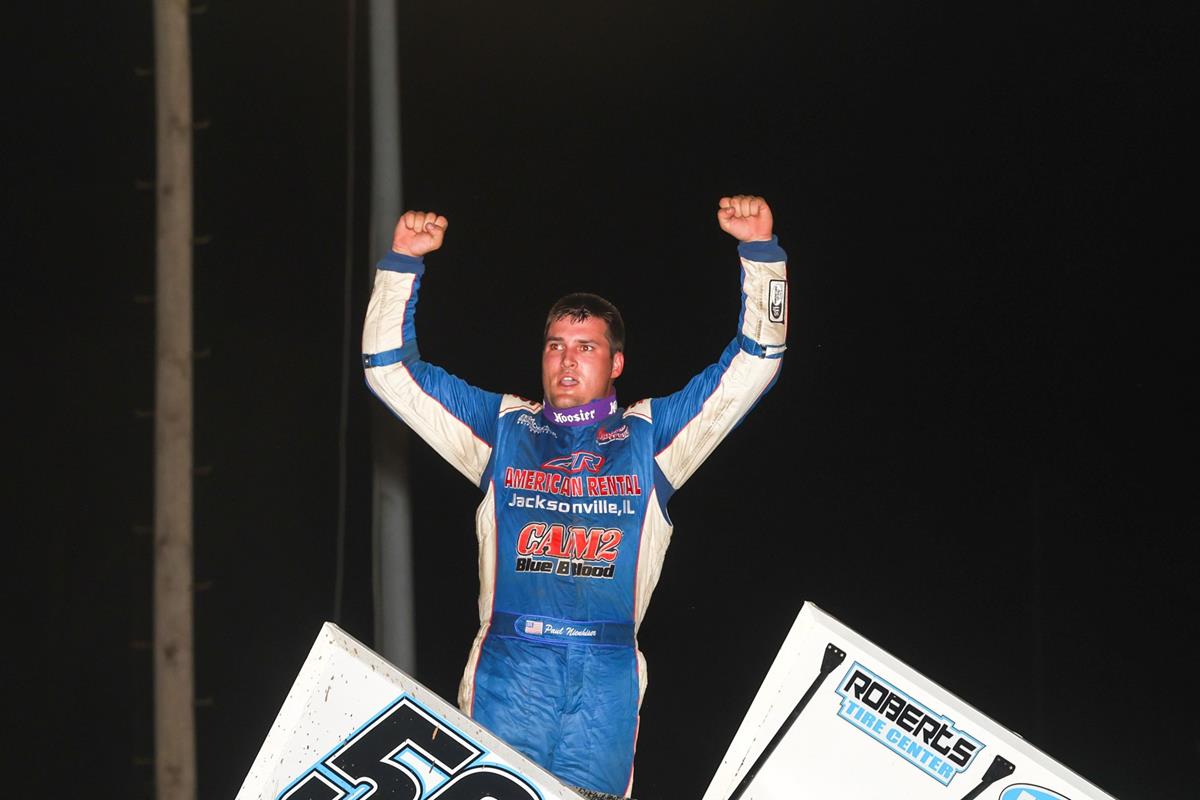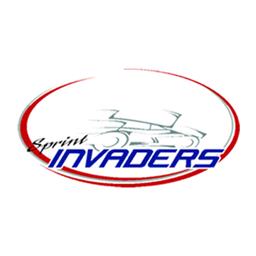 ---
Paul Nienhiser Continues Dominance with Sprint Invaders Win in Quincy!
(Brendon Bauman Photo)
Paul Nienhiser Continues Dominance with Sprint Invaders Win in Quincy!
(Bill W) Quincy, IL, August 20, 2023 – Paul Nienhiser hit the "hat trick" a couple of times Sunday night at the Adams County Illinois Speedway in Quincy. It was not only his third straight win with the series, but it was also his third of the weekend, having topped the MOWA series Friday at Lincoln (IL) Speedway and the Sprint Invaders Saturday in Peoria. The Chapin, Illinois driver was dominant on the "Broadway bullring" in Quincy Sunday, earning $2,000 for the Scott Bonar #50 team. It was Paul's eleventh career Sprint Invaders win.
After starting in the front row on Friday in Peoria, Nienhiser would start outside row three on Sunday. It wasn't a problem. By the time the first of the 25 laps in the main event was scored, he was leading. Nienhiser went wire to wire from there.
Early on, Colton Fisher, Randy Martin and the point leader entering the night, Ryan Bunton were in pursuit. On lap three, Bunton made a move on the low side to go from fourth to second. Chase Porter entered the top four on lap four with a pass of Randy Martin.
On lap five, a three-wide battle coming out of turn four ended badly for two-time and defending series champion, Cody Wehrle. He ended up in the frontstretch wall, with a broken front end. The restart saw Nienhiser ahead of Bunton, Fisher, Porter and Martin. Fisher shot into second when the green flew, and Joey Moughan entered the top five. On lap seven, Moughan hit the cushion to pass Porter for fourth in a good battle.
Moughan's luck would run out, when he tagged the backstretch wall and exited the track over turn two on lap nine. He would be done for the night. It would prove to be the last caution of the event. Nienhiser was into lapped traffic with ten to go and lapped all but the top five cars by the time he took the checkers.
Fisher held off Bunton for the second spot. Porter was fourth, and Tasker Phillips charged late for fifth. Luke Verardi, Steven Russell, Tyler Lee, Martin and Bret Tripplett rounded out the top ten. Phillips won his heat and the Shake-up Dash. Fisher also won a heat.
"This 50 car is a dream to drive every time we hit the racetrack," said Nienhiser in Victory Lane. "We rolled around there before we pushed off and I was kind of surprised how sticky the bottom stayed in one and two. If the opportunity presented itself (on the start), you kind of had to go where they were not. It was kind of like the waters parted. We had a really good racecar and stuck the bottom. I think we were leading going down the backstretch. Like I said, this car makes my job look easy. It's a pleasure to drive. Hopefully, we can come to Quincy more often."
"We had good speed last night at Peoria," said Fisher, who suffered a DNF there. "We ended up losing our brakes in the feature and almost wadded it. We walked out with minimal damage, and came into tonight feeling good. I've had good speed, but struggled putting it all together. We felt good in the heat race, and in the feature, we still have some work to do. It was a good battle with Ryan."
"It is a lot of fun racing with these guys," said Bunton of his third place finish. "They race you clean, but they race you hard. Both of those together, are a rarity to find. The car was on point tonight. We've been battling some engine issues, and we've been on seven cylinders, but it's the 'little engine that could.' We're giving it our all here and it's showing. The motor is coming out tomorrow, and we hope to have it ready for Labor Day weekend."
The Sprint Invaders compete twice during the Labor Day weekend. On Saturday, September 2, they'll visit the West Liberty Speedway in Iowa for the first time in several seasons. On Sunday, September 3, they'll make their second appearance of the year at the Benton County Speedway bullring in Vinton, Iowa.
For more information on the Sprint Invaders, visit www.SprintInvaders.net or visit us on Facebook.
Sprint Invaders Results
Shottenkirk Automotive Group A main (started), 25 laps: 1. 50, Paul Nienhiser, Chapin, IL (6) 2. 11, Colton Fisher, Mediapolis, IA (2) 3. 6R, Ryan Bunton, Morton, IL (3) 4. 2, Chase Porter, St. Joseph, MO (4) 5. 1E, Tasker Phillips, Pleasantville, IA (5) 6. 28, Luke Verardi, Taylorville, IL (10) 7. JR1, Steven Russell, Russellville, MO (9) 8. 7, Tyler Lee, Cedar Rapids, IA (7) 9. 14, Randy Martin, California, MO (1) 10. 99, Bret Tripplett, Lincoln, IL (12) 11. 2A, Austin Archdale, Brimfield, IL (15) 12. 31, McCain Richards, Burlington, IA (16) 13. 4x, Chase Richards, Burlington, IA (13) 14. 99D, Tucker Daly, Hallsville, MO (17) 15. 52D, Skyler Daly, Hallsville, MO (14) 16. 5H, Joey Moughan, Springfield, IL (8) 17. 40, Cody Wehrle, Burlington, IA (11) Lap Leader: Nienhiser 1-25. $75 Christine Wahl-Levitt/KSE Hard-charger: Nienhiser.
Randall's Performance Heat one (started), 8 laps: 1. Tasker Phillips (5) 2. Joey Moughan (2) 3. Randy Martin (4) 4. Luke Verardi (3) 5. Tyler Lee (8) 6. Steven Russell (9) 7. Austin Archdale (1) 8. Skyler Daly (7) 9. Tucker Daley (6)
Joshua Denning & Associates Heat two (started), 8 laps: 1. Colton Fisher (1) 2. Chase Porter (3) 3. Ryan Bunton (6) 4. Paul Nienhiser (7) 5. Chase Richards (2) 6. Cody Wehrle (5) 7. Bret Tripplett (8) 8. McCain Richards (4)
OpenWheel101.com Shake-up Dash (started), 6 laps: 1. Tasker Phillips (1) 2. Paul Nienhiser (6) 3. Randy Martin (2) 4. Colton Fisher (4) 5. Ryan Bunton (3) 6. Chase Porter (5)
Reid's Landscaping & Turf $50 Draw Award: None
Contingencies
DMI: Cody Wehrle
Saldana: Austin Archdale
BMRS High Point Driver: Tasker Phillips
Trophy Sponsor: Holtkamp's Trailer Repair
Back to News